No Prep Module: The Valkyrie of War for D&D or RPGs
This adventure can be can be easily customized to a party of any size or level, or run as a level 5 adventure for 5 players. It can work as a small side adventure in an existing campaign, as a standalone one-shot, or the start of a new adventure. Use the links to the tools in their relevant section to customize the adventure to your party.
Background
The border town of Edrath has long found itself the center of political tension between the neighboring kingdoms, despite not being a valuable strategic location. It's more likely to be razed in the event of war than conquered, an unsettling fate that a half-elf priest named Irann Blum believed was all too certain. In her desperation she beseeched the gods for help and was sent a glorious valkyrie to protect her town. However in time the valkyrie grew to despise the PC's neighboring kingdom and believed a holy war to purge the land of heathens is the only recourse. At least, that's what she tells adventurers.
In truth, Irann is a demon in disguise hoping to nudge the valkyrie to war prematurely by sending adventurers as assassins. The valkyrie Bartach believes the PC's kingdom is evil and corrupt and has been forming defensive alliances with smaller nations, but has not as of yet made motions towards war. Her death or provocation at this point would likely lead to a brutal war that would devastate all the kingdoms, a fact the demon Irann is trying to exploit.
The shroud of mist that covers the ground turns into creeping walls of gloom that silently envelop you until you can't see more than a few feet in any direction. Plumes of smoke from countless campfires rise into the sky, and loud, guttural speech and shouts fill the air. Hundreds of varieties of fungi grow over every surface, and the air is heavy with the stench of rot. The nearby hamlet of Edrath has outlawed worship of traditional gods, it's surrounded by no walls with mostly Tabaxi and Human residents. There's a bridge leading into town with a phoenix perched on it.
Adventure Hooks
Dryads have taken loggers hostage.
A scientist is experimenting on monstrous creatures, creating monster repellents and charms to exert control over them. He needs parts from certain creatures to complete his experiments, but his assistants have run off due to the danger involved. He's currently looking for new, braver assistants. Once met, the scientist will try to hire the party to help him capture creatures or acquire certain parts and byproducts.
Irann Blum (a local priest) contacts the party and asks for their help.
Edrath has outlawed worship of traditional gods, known for its skilled craftsmen and its strong drink. The hamlet is surrounded by no walls, with mostly Tabaxi and Human residents.
Phoenix Fix
The bridge into town has a phoenix perched on it, and the villagers are all scared to pass which has effectively shut down entry or exit into the town. The phoenix is not hostile, but will caw defensively at anyone who approaches, which results in a hasty retreat. Let the players come up with their own solution and call for appropriate skill checks with DC 12, attempting to befriend the bird could be Animal Handling or they might try something else. Once the phoenix is calmed or scared, it will fly off and allow trade to resume.
If the PCs attempt to contact A local priest then they will meet with Irann Blum who can tell them a bit about the valkyrie and where to find her.
Irann Blum, Female Half-Elf
Description: An older woman who prefers to wear yellow clothing when she does not wear armor, she is not a threatening figure. Her blonde hair is greasy and uncared for. Her thin eyebrows rest above her beady violet eyes.
Personality: A grumpy gal she will invite people to lunch so she can critique them. Yet she still seems generally likeable, like a lovable grump. She is lazy, selfish, vain, and jealous. She is not an evil woman, and she has not killed or seriously harmed anyone in any of her years, nor does she generally wish harm to others; she simply thinks the world revolves around her.
History: She was born to a wealthy landowner in a frontier town, living a normal and happy childhood. A gypsy cursed her at a young age, leading to her ugly appearance. One night she noticed a nearby shooting star which she hiked out to see where it landed. It turned out to be an ancient artifact of some kind. She has done her darndest to repair it but it is currently non-functional.
Motivation:She's repulsed by the PC; and she has money and likes to spend it
Voice: Scandinavian accent
If the PCs look into the dryad issue, or look into the monster experiments, they can meet with Cimer Idea. The tiefling will ultimately ask them to travel out into the ruins to solve the issue, which will cause them to stumble upon the valkyrie's stronghold.
Cimer Idea, Male Tiefling
Description: A hulking man with gigantic muscles, he wears white robes with leather pauldrons. Though occasionally he wears more armor. He prefers to carry a monstrous two handed axe, but if one is not available he will default to his longbow. His red hair is matted, messy, and big. His red eyes dart from person to person.
Personality: He is inclined to make off color jokes and interpret anything that could be construed as such as innuendo. He pushes his goals aggressively. He is also a coward if confronted.
History: A child with a great deal of music talent his parents made sure he got the chance to thrive. He has chosen to use the inheritance that was left to him frivolously. He now mingles about in high society.
Motivation:He is greedy; and he is wracked by social anxiety
Voice: Slow speaker
When the PCs are ready, they can travel to city ruins on mountainous cliffs. The journey takes 4 days and they see there are crystals that mystically answer questions.
Navigation DC 15, Foraging DC 20. The temperature is -4°C (24°F) at day -18°C (-05°F) at night When heat below -17°C (1°F), without cold weather gear must make DC 10 Con save every hour for exhaustion. The weather is light snow with no wind.
Valkyrie Stronghold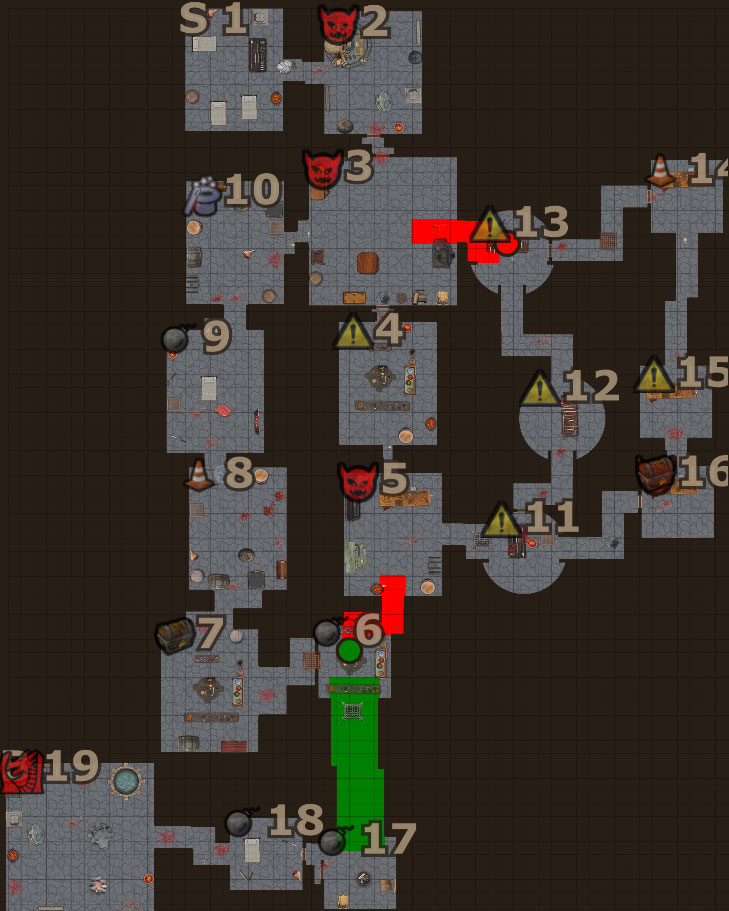 Dungeon Info
Type: Earth Mine
Noises: Bang or slam
Air: Clear and damp
Odors: Putrid
Room Contents
You can also generate different descriptions using the Description Generator
Political Fallout
If the valkyrie is killed, the other kingdoms in her political alliance will see this as an assassination, further worsening tensions between the kingdom and making war a likely outcome. If the valkyrie survives but is unconvinced, then war is guaranteed. This could lead into a campaign about trying to repair collapsing diplomacy and a full-scale war.
If the valkyrie is convinced, then tensions between the kingdoms will de-escalate, and questions will likely arise about the priest Irann Blum. If they return to find the priest, she will be gone. This could lead into a campaign or recurring villain where the demon continues to sabotage political relations between the kingdoms with the goal of inciting war.
Need more help with your campaign? Check out all the other tools, generators, and articles: kassoon.com/dnd/
This website exists thanks to the contribution of patrons on Patreon. If you find these tools helpful, please consider supporting this site. Even just disabling your adblocker will help (it's only text and plain image ads I promise). Becoming a patron will upgrade your account to
premium
, giving you no ads and more features.
Shout outs: Stacey, Lj Nielson, Daniel Wise, big jimbo, Conall Reilly, Alex, Violet Floyd, keith oneal rogers, Val Lorenzo Pilapil, Mika, William Bamann, Patrick Natale, Cam Largent, Thaddeus Johnson, Mykaela Grube, Jack Stevens, Sam Davis, Chandlor Desper, Layha Quinn, Rebecca Wheeler, Masca Boom, Jordan, Rincewind, Michael Hamilton, Rob Hale, Vedie V, Mylon Schroder, Nathan, Conrad Carlson, Tiffany Mathis, Joseph Mitchell, Jordan Florez, Devantre Blackmon, Robert Rich, Mohammed Murtuza, bob leponge, TheFiendSaint, Robin Ellis-Foster, Deanna Pyle, Jess, Meme Pitt-Melton, E.D.F., Lorena Stuart, Zee Livezey, Alexandra Nguyen, KuroKimora, ryan scott, Christianna Schommer, Kerry Melton, SpiritFang, Lizette Marie, DJ_Kelf, Insomic Panda, paige anderson, Cassandra Keyes, Simon Wegerstedt, Naomi B, Darel Boyer, Rupert Borthwick, Anthony Lopez, Nick Soucy, Melanie Warga, Jeremiah Walker, Randall Welker, Shyler Lance, Bryan Sheairs, Koto Sinclair, Max Hops, Sarah Holland, Joshua David Maddox, Jennifer Smith, Ray Bissonnette, Joe Dalby, Joline Tran, Matt Price, Yuki, ShortyMcgibble, mtnman1979@aol.com, Parker VanDerMeide, KFB_Patreon, David Davidson, eric sun, Bruce Willison, Gundar Wez, Ken Shapiro, Katherine Ekes Lewing, Matthew payne, Jacob Plummer, RiGarou, Rebecca Montelli, John Karels, Dylan Williams, Snowy Snow, Nahellion, Robert D O'Dell, Alexander Garcia, Serena Verden, Alexander Griffiths, SnipsGTI, bilbens baggo, Stuart, IbKelek, Galygious, T. Alexander, Tim Mason, Maxwell Mayer, Gannon Dubay, Thobek, Aaron Teupe, Celso R Garcia III, Felix Schmäche, John, Miss Zilla M, RRare, Jordan Brazeal, Kyle Clark, Jake Lane, Adam Ruiz, Phillip P Torchia, Conor Quinn, Natalie Luttrell, Balanced Game Review, Stefan Gottschalk's, Matthew Wood, Royce Dillard, DiegoDeath, Remora's Jewel, Bartis Edmond Hawley-Wall, Dawnwolf, Buffonturtle, Christina Majchrzak, jeremy baisch, Ivee Ransford, Zealot23, Bruxius, Shane Andrews, Andre Wills, CJMAXP, The Dreaded Squirrel, Chevy Jones, Keaton Permenter, Shazear, Curran Vallejo, Leanna Orr, Ezzela1891, John Nazario, Gary, Gordon Alexander Fallon, Jason Clark, Topher Scott, Max Puplett
Their contribution stands as a beacon of hope for all adventurers!