No Prep Module: The Fight Of the Fey for D&D or RPGs
This adventure can be can be easily customized to a party of any size or level, or run as a level 2 adventure for 5 players. It can work as a small side adventure in an existing campaign, as a standalone one-shot, or the start of a new adventure. Use the links to the tools in their relevant section to customize the adventure to your party.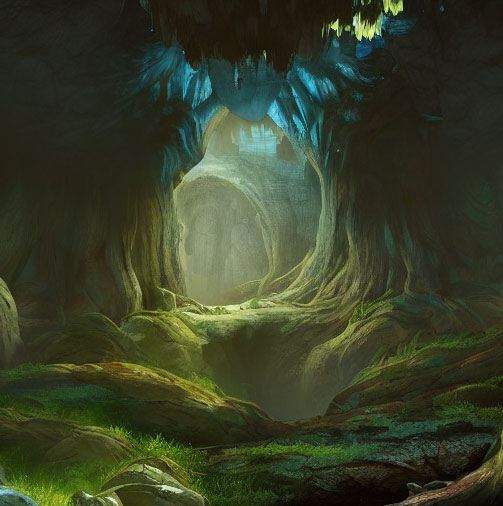 Background
A criminal syndicate of lizardfolk have pulled off a daring heist: stealing the egg of a gold dragon. Their plan was going off without a hitch, all that remained was to raise the dragon in secret until they had an unstoppable ally. That is, until a group of fey appeared and then disappeared with the egg in tow, retreating to their home in The Underbog: a secret trench underneath the roots of a great forest. In retaliation, the lizardfolk have launched a full-scale invasion of the fey, and the resulting clash of the monstrous factions has made the once peaceful forest into a warzone. The Order of the Broken Hooves, lead by a gold dragon in disguise, wants the egg recovered and hostilities ended.
The PCs are arriving at a dwarven city built into the mountain, looking for info related to their backstory or doing downtime. Just outside the city near the forest, by a dark pit with no life growing around it and bones piled in the bottom, they encounter a group of lizardfolk harassing some fey with iron spears. If the PCs attempt to intervene, the lizardfolk will hold the fey hostage with the iron, which is caustic to the fey. This can be run either as a skill challenge if the PCs treat it like a hostage negotiation, or an encounter with 3 Lizardfolk where the PCs need to subdue the lizardfolk before they kill the fey.
If the fey are rescued, they'll thank the PCs and disappear with a giggle. Later in the underbog, if the PCs have an encounter with the patrol and there are no lizardfolk around, the patrol will pretend not to see them with a knowing wink.
The ground grows soft and murky in this branch of the plain; initially dotted with a crumbling castle, mostly caved in, it transforms into broken plains after a few hundred yards. Perched atop a ten-foot cube of granite is a dirt-caked statue of a tiger, bearing small horns. The statue looks north. The nearby city of Bowforte Accord is the headquarters of a major family or guild, it's surrounded by palisades with mostly Dwarf and Tabaxi residents.
Bowforte Accord is the headquarters of a major family or guild, known for its flowers and its colorful dyes. The city is surrounded by palisades, with mostly Dwarf and Tabaxi residents.
Adventure Hooks
The party members are hired to recover a dragon egg that was stolen by the fey and taken to their forest.
A recent large explosion of unknown cause within the industrial section of a large city has caused ever decreasing colour saturation in the surrounding area, literally turning the world black and white! The affected area also seems to be growing, slowly draining the colour out of the world as it spreads outwards.
Order of the Broken Hooves contacts the party and asks for their help.
If you need an NPC to act as a questgiver, you can use this one:
Vanuath Floshem, Male Elf
Description: This southern man wears an entirely tan suit with yellow socks and a vest with buckled shoes. His clothes are grease stained in places. He has styled his black hair well, parting it to the right. His amber eyes are passionate and lively.
Personality: While he acts the brute, he is far gentler than he would appear. Any perceived weakness will be pressed and exploited. He is seen as merciless and passionate.
History: He was born a particularly ugly child, much to the horror of his parents. He was taken from his home at a very young age. He left for the south, certain he would find work there.
Motivation:He possesses a valuable artifact that the thieves guild wishes to steal; and he has decided he is irredeemable
Voice: Spanish accent
When the PCs are ready, they can travel to the underbog in the forest. The journey takes 5 days. Navigation DC 15 (on fail it takes 8 days), Foraging DC 10. The temperature is 28°C (83°F) at day 9°C (48°F) at night. The weather is light rain with no wind. On one day of travel they come across a grove of Magic Mushrooms, if the PCs try to eat any or spend some time in the grove, roll a d10:
| Roll | Effect |
| --- | --- |
| 1 | Their skin permanently turns purple with yellow splotches. |
| 2 | They become Large for 1 hour. |
| 3 | They restore 5d8+20 HP. |
| 4 | They can only cluck like a chicken for 1 hour. |
| 5 | They can understand and speak all languages for 2 days. |
| 6 | They gain telepathy for 1 day. |
| 7 | They can speak with plants for 8 hours. |
| 8 | Time stops for everyone but them for 20 seconds. |
| 9 | They can read thoughts for 1 minute. |
| 10 | Mist pours out of their eyes and ears for 1 hour. |
A glowing mossy trail leads down under the great roots of the trees in the forest.
The Underbog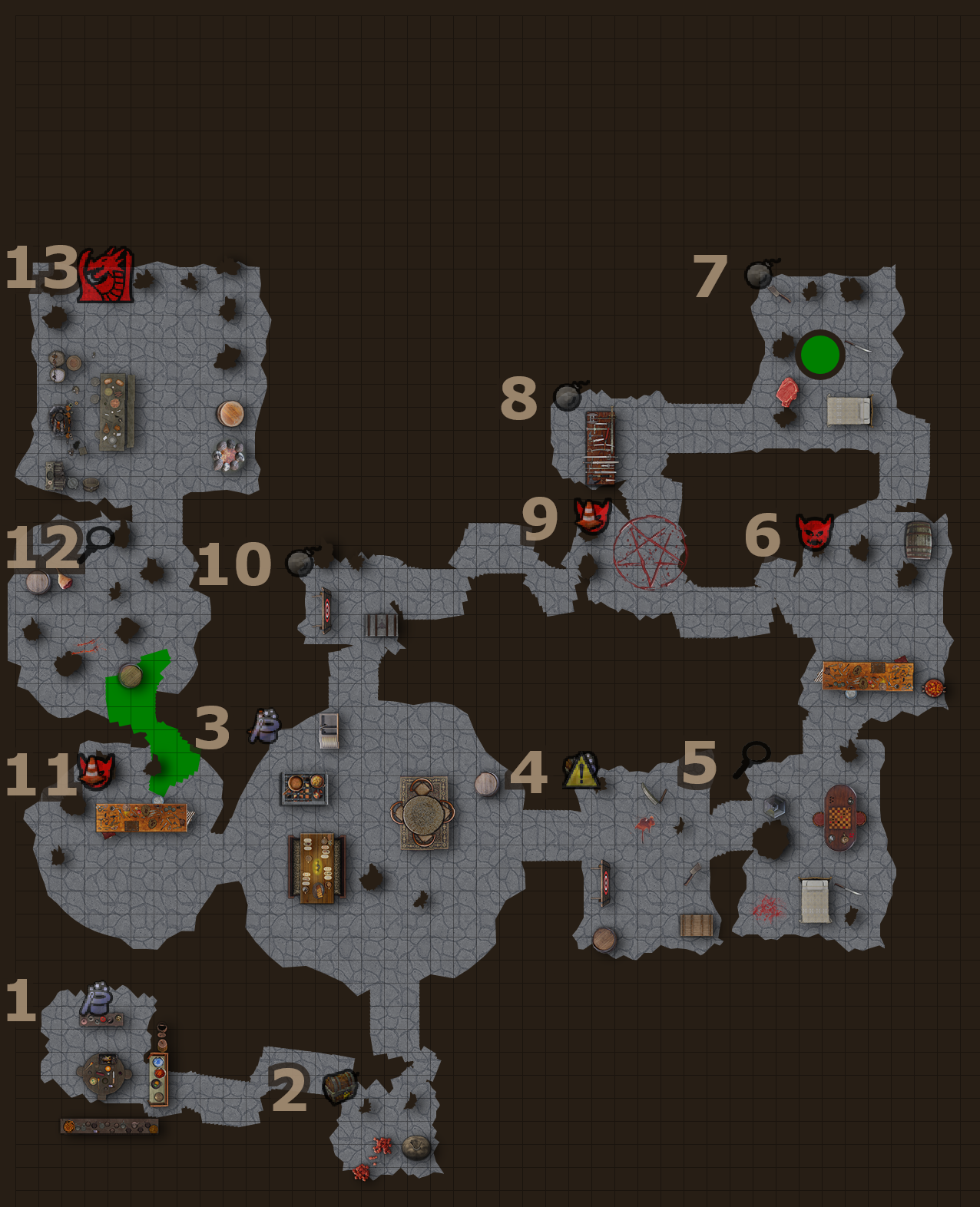 Type: Fey Lizardfolk Illusion Underbog
Noises: Footsteps approaching
Air: Clear and drafty
Odors: Floral or moldy
Room Contents
You can also generate different descriptions using the Description Generator
In the fight, large magic mushrooms eject spores around the perimeter, dealing 1d6 psychic damage to any creature that enters or starts their turn there. The safe zone in the middle can slowly shrink each round on initiative count 20.
Conclusion
With the egg recovered, the PCs can choose to return it to The Order of Broken Hooves. If they don't, they'll be hunted by the order (and gold dragon mother). The remnants of the lizardfolk syndicate will seek to recover their lost egg, and mark the PCs as enemies, possibly seeking their assassination. The fey will reclaim their underbog, and if the PCs harmed any fey, then relations will be strained if not outright hostile. The PCs may find themselves the targets of several fey pranks for some time after the adventure.
Need more help with your campaign? Check out all the other tools, generators, and articles: kassoon.com/dnd/
This website exists thanks to the contribution of patrons on Patreon. If you find these tools helpful, please consider supporting this site. Even just disabling your adblocker will help (it's only text and plain image ads I promise). Becoming a patron will upgrade your account to
premium
, giving you no ads and more features.
Shout outs: Stacey, Matt Belanger, kaizerrolls, Jeremiah Walker, Tim Hinkle, Lasse, Poodlenuke, Randall Welker, Agatha Wolfie, Shyler Lance, Bryan Sheairs, matteo carbini, Alison Willis, Koto Sinclair, Kris Drummond, Sarah Holland, Joshua David Maddox, Standish Writes, Ray Bissonnette, Joe Farabaugh, Joe Dalby, Joline Tran, Matt Price, Das Meses, Yuki, ShortyMcgibble, Mr. Vinclair, connor howard, Knot Sure, Sarah Banford, Alex Lavigne, mtnman1979@aol.com, Parker VanDerMeide, KFB_Patreon, BROisback, Alex Reyes, David Davidson, eric sun, Benoit David Baillargeon, Jordan Jorgensen, Jason Wenneman, Mike Kemmerer, Katherine Ekes Lewing, Matthew payne, Jacob Plummer, RiGarou, Rebecca Montelli, Gage Lahr, H, Sagwopper, John Karels, wintersanctuary, Dylan Williams, Donovan Nordick, Snowy Snow, Jakasaras 4che, Nahellion, Vanessa, Ben Pytlik, Robert D O'Dell, Scarlett, Chris Francis, Alexander Garcia, Serena Verden, Alexander Griffiths, SnipsGTI, Brian Sousa, bilbens baggo, Stuart, IbKelek, Galygious, Andrew Patton, Nicole Patten, Clementine Turner, ted valen, T. Alexander, Tim Mason, Darren Hilbring, Gannon Dubay, Thobek, George V Crain, Brian allbritton, Aaron Teupe, Moonstone, Matthew Newton, Celso R Garcia III, Felix Schmäche, Corwin Lum, John, Rob Garner, Matt Houghton, Rune Anjum, Brice Carpenter, Jordan Brazeal, Jake Lane, Adam Ruiz, Daniel Whelan, Phillip P Torchia, Conor Quinn, Nathan Tracy, Balanced Game Review, Jordan Fountain, Stefan Gottschalk's, Matthew Wood, Bartis Edmond Hawley-Wall, Kyler Havard, Zealot23, Nich Smith, Matt Koltes, Chris Mulvihill, Keaton Permenter, Shazear, Leanna Orr, John Nazario, Gary, Gordon Alexander Fallon, Topher Scott, Max Puplett
Their contribution stands as a beacon of hope for all adventurers!