Liff Frostbeard
Character Name
Barbarian 1
Class & Level
Chaotic Neutral
Alignment
Lvl 1-4:+2, 5-9:+3, 10-13:+4, 14-16:+5, 17-20:+6

Picture URL:
+
0
Animal Handling (Wis)
+
0
Sleight of Hand (Dex)
* See your equipment
Skills
(8 + Proficiency + Spellcast Mod)
13
DC
SPELLCASTING
Name
Bonus
Damage / Type
Greataxe
+5
1d12+3 slashing
[-]
Hand axe
+5
1d6+3 slashing
[-]
Javelin
+5
1d6+3 piercing
[-]

ATTACKS & SPELLS
Greataxe
2 Handaxes
4 Javelins
Explorer's pack
EQUIPMENT
Darkvision 60ft
Dwarven Resilience: Advantage on poison saves and poison resistance.
Stonecunning: 2x proficiency on history (stonework) checks.
Dwarven Armor Training: Proficiency with light and medium armor.
Rage: 2/long rest when not wearing heavy armor, advantage on strength checks/saves, +2 damage on strength attacks, resistance to bludgeoning, piercing, and slashing damage. Can't cast spells, ends after 1 minute, if knocked unconscious, if ending turn without attacking or taking damage since last turn, or as a bonus action.
Unarmored Defense: While not wearing armor, your AC is 10 + Dex mod + Con mod. You can still use a shield.
FEATURES & TRAITS
I like a job well done, especially if I can convince someone else to do it.
PERSONALITY TRAITS
Knowledge. The path to power and self-improvement is through knowledge. (Neutral)
IDEALS
I will become the greatest thief that ever lived.
BONDS
My piety sometimes leads me to blindly trust those that profess faith in my god.
FLAWS
Proficiencies: Light/medium armor, shields, all simple/martial weapons
Languages: Common, Dwarven
PROFICIENCIES & LANGUAGES
She was raised in a white middle class family as the only child. Her parents divorced when she was young, and her mother gained full cudstody. She was regularly beaten by her mother, who blamed her for driving them apart. She was betrayed by a partner and left for dead, teaching her a humbling lesson in trusting others.
DESCRIPTION & EXTRA INFO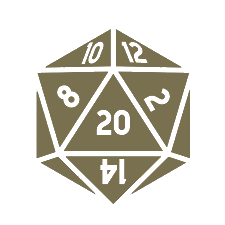 This website exists thanks to the contribution of patrons on Patreon. If you find these tools helpful, please consider supporting this site. Even just disabling your adblocker will help (it's only text and plain image ads I promise).