Trap Generator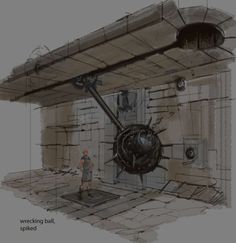 [Permalink]
Rune of Fear
This trap has a cover constructed from material identical to the floor around it that activates a rune of power, fearing the target.
Effect: Targets all creatures within 10 ft., DC 10 WIS save or become frightened for 3 (1d4) rounds
Trigger: cover, activates when a creature steps on the false floor and drops into the trap.
Countermeasures: Once the trap is detected with a successful DC 20 Wisdom (Perception) check, an iron spike or similar object can be wedged between the cover and the surrounding floor in such a way as to prevent the cover from opening, thereby making it safe to cross. The cover can also be magically held shut using the arcane lock spell or similar magic.
Casting
dispel magic (DC 10)
will dispel the runes in the symbol.
Falling Gate
A denizen of the lair is hiding nearby out of sight watching for intruders to enter the trap's radius. When a hostile creature is spotted, the sentry pulls on a rope that makes an iron gate drop from the ceiling some distance behind, blocking the exit.
Effect: Targets all creatures within a 10 ft. square area, An iron gate drops from the ceiling some distance behind the trigger, blocking the exit. Any target underneath the gate makes a DC 10 DEX save or takes 7 (2d10) bludgeoning damage.
Trigger: sentry, a sentry is hidden in a hole or around a corner with a rope that activates the trap when pulled.
Countermeasures: The sentry is a regular denizen of the dungeon, stealthed in a nearby hiding spot. A successful DC 20 Wisdom (Perception) check spots the sentry, and the sentry will activate the trap when they see enemies standing within range of it. Disabling, avoiding, or scaring off the sentry will render the trap harmless.
The gate can be
destroyed
with an AC and HP based on its material (see destroying traps below).
Destroying Traps
Traps can be damaged and destroyed, sometimes to good or bad effect. Pipes containing fire or poison will rupture and spray over the area, while mechanisms can be rendered inoperable with enough force. Determine the HP and AC of your traps based on the tables below. Sometimes a fragile trap is more dangerous than a resilient one if destroying it will fill the corridor with acid.
| Substance | AC |
| --- | --- |
| Cloth, paper, rope | 11 |
| Crystal, glass, ice | 13 |
| Wood, bone | 15 |
| Stone | 17 |
| Iron, steel | 19 |
| Mithral | 21 |
| Adamantine | 23 |
| Size | HP (Fragile) | HP (Resilient) |
| --- | --- | --- |
| Tiny (bottle, lock) | 1 (1d4) | 6 (2d4) |
| Small (chest, lute) | 5 (1d6) | 13 (3d6) |
| Medium (barrel, chandelier) | 1 (1d8) | 16 (4d8) |
| Large (cart, 10x10 ft. window) | 2 (1d10) | 31 (5d10) |
This website exists thanks to the contribution of patrons on Patreon. If you find these tools helpful, please consider supporting this site. Even just disabling your adblocker will help (it's only text and plain image ads I promise). Becoming a patron will upgrade your account to
premium
, giving you no ads and more features.
Shout outs: Stacey, Liz Renzullo, Chris Francis, Alexander Garcia, Meghan Hoopes, DjinntheSleepwalker, Cameron Kleine, Cooper Freeman, Serena Verden, Hipo, Alexander Griffiths, SnipsGTI, Amelia, Brian Sousa, Stuart, Matthew Gordon James Hood, IbKelek, Galygious, donestead, Ashley Keisling, Nicole Patten, James Deschamps, Clementine Turner, ted valen, Makean, Tim Mason, Micheal Green, Darren Hilbring, Marco Castillo, NelzyPhD, George V Crain, Brian allbritton, Aaron Teupe, monkeybot4224, Moonstone, Johnny S, Megan Haines, Matthew Newton, Celso R Garcia III, Felix Schmäche, Bonnie (Jez), b, Corwin Lum, Rob Garner, Miss Zilla M, Matt Houghton, Rune Anjum, Raphael Mort, Brice Carpenter, Jimaco, Jordan Brazeal, Jake Lane, Adam Ruiz, Conor Quinn, gloomblossom, Jordan Fountain, Bartis Edmond Hawley-Wall, Kyler Havard, Chris Mulvihill, Garret Dupont, Keaton Permenter, Shazear, Leanna Orr, Chris Bottorff, John Nazario, Gary, Gordon Alexander Fallon, Raffike, Max Puplett, Shelby Miller
Their contribution stands as a beacon of hope for all adventurers!