No Prep Module: The Hive Lord for D&D or RPGs
This adventure can be can be easily customized to a party of any size or level, or run as a level 2 adventure for 5 players. It can work as a small side adventure in an existing campaign, as a standalone one-shot, or the start of a new adventure. Use the links to the tools in their relevant section to customize the adventure to your party.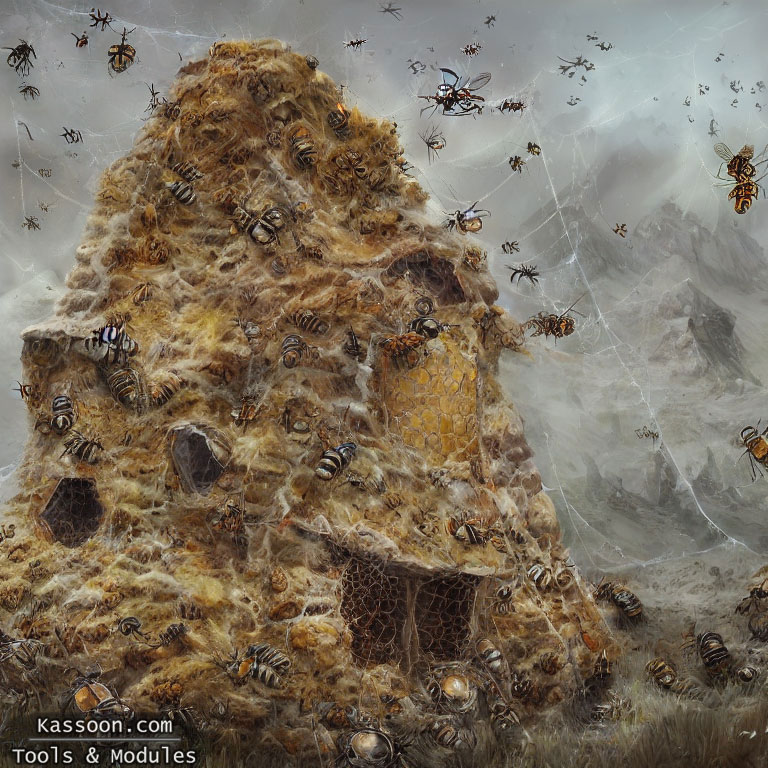 Background
An insect hive lord and his swarm have been kidnapping people from the nearby village, turning them into mindless slaves through a horrifying mutation. The hive has been growing rapidly, and has completely taken over the wilderness nearby, making travel especially treacherous. Heroes are requested to put a stop to the attacks and prevent the hive from getting completely out of control.
Start with a week of downtime and choose something from each PC's backstory to advance and connect to the adventure. A relative, contact, or rival could be involved, or something pertaining to one of their character's goals can be progressed by something in the adventure. If a PC has no hooks in their backstory, use the downtime to establish what one of these might be instead: have someone ask about a relative, introduce a rival, or ask about their character's goals. If this is the first (or only) session with these characters, you can skip this.
The PCs are arrving at a gnome village named Winterforte hidden in a valley, looking for info related to their backstory or doing downtime. They see An obelisk, comprised of rose quartz and decorated with sylvan runes, which appears to be of fey origin. It's surrounded in a 120-foot field of wild magic.
Adventure Hooks
One of the characters inherits a ship with an old captain's log that hints at places to explore, treasure to find, and perils to avoid.
Insects attack a local gnome village. The PCs must help the village fortify against future attacks, and track the insects down to administer retribution.
Society of Shattered Blades contacts the party and asks for their help.
When the PCs are ready, they can travel to the hive in the wilderness. Have the lead PC make a DC 10 Survival check, on a success the journey takes 3 days, on a fail the journey takes 5 days. If they run out of food, they can forage with a DC 15 Survival check. The climate is 0°C (32°F) at day, and -8°C (17°F) at night, requiring warm clothes. The weather is clear and sunny with light wind.
When the PCs arrive, they come to a valley that's an Infested location (Tasha's pg. 156). If they continue and explore, they find the hive.
A dam of ichor and refuse turns away the rolling frozen river. Although the dam appears to have been hastily constructed from makeshift materials, it has weathered the years remarkably well. Hundreds of varieties of fungi grow over every surface, and the air is heavy with the stench of death. A massive hive grows out of the landscape, made of all manner of organic matter, with hundreds of insects buzzing about the structure.
Dungeon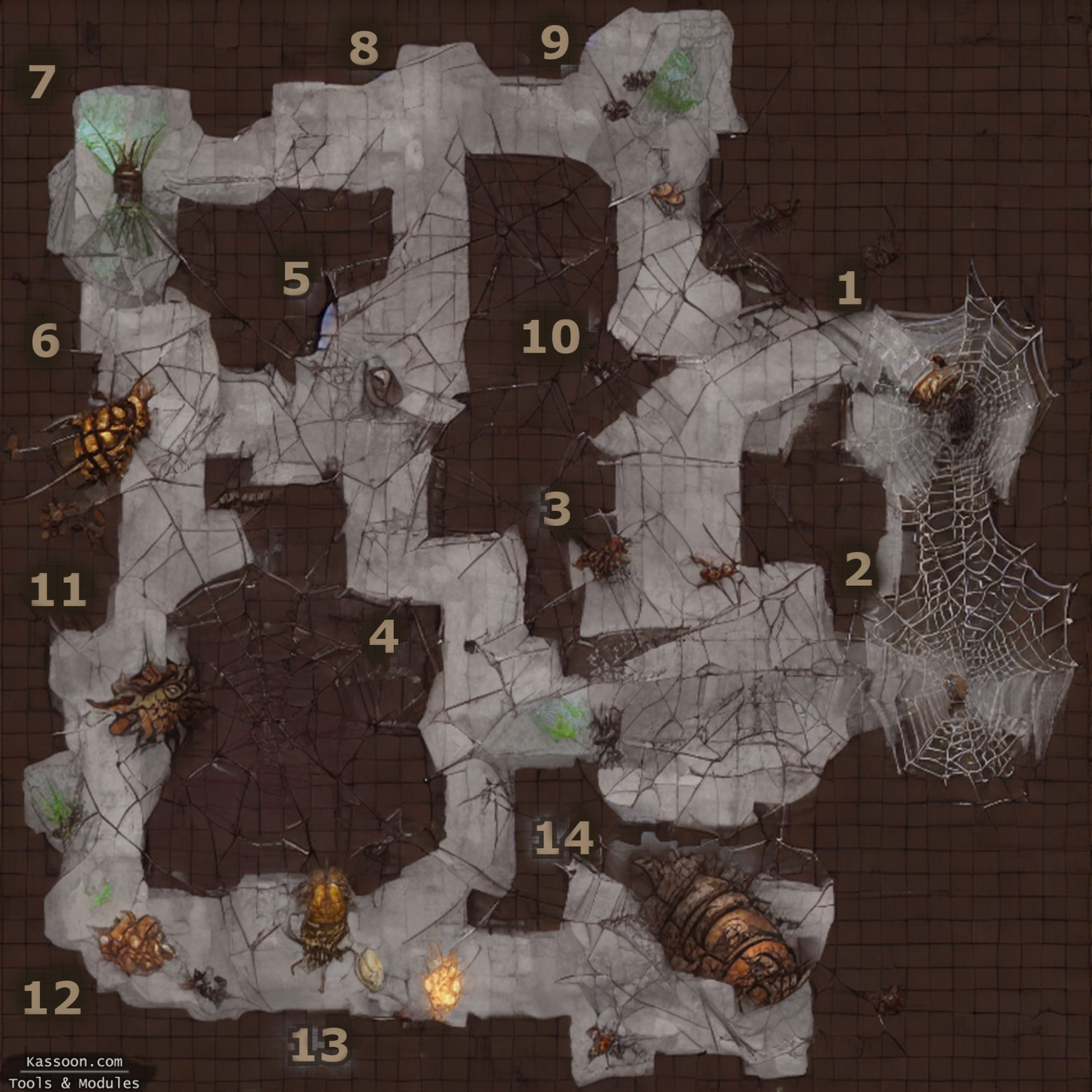 Type: Insect Hive
Noises: Buzzing
Air: Hazy and humid
Odors: Dank or moldy
Room Contents
You can also generate different descriptions using the Description Generator
There are Commoner Peons (+0, 10 AC, 4 HP) of a slave army that don't really want to fight the party, but are under control of the Neogi Master. They will swarm the party, using Help, Grapple, and Trip to assist their master. If the fight is too easy, you can add more commoners or have them start making attack rolls.
Aftermath
With the hive lord defeated, the remaining insects scatter and become feral. They may attack random settlements and travelers that needs to be dealt with, but never as a unified force. For rescuing their town, the gnomes hold a celebration for the PCs and reward them with 100 gp, 2 Potions of healing, and a Wand of web
Need more help with your campaign? Check out all the other tools, generators, and articles: kassoon.com/dnd/
This website exists thanks to the contribution of patrons on Patreon. If you find these tools helpful, please consider supporting this site. Even just disabling your adblocker will help (it's only text and plain image ads I promise). Becoming a patron will upgrade your account to
premium
, giving you no ads and more features.
Shout outs: Stacey, Bob the Skull, Cesartyrus, Christianna Schommer, Suzi Clive, Kerry Melton, Matt Hudson, Chris M, Lizette Marie, Sophia McDuffee, Insomic Panda, Laure Wouters, ItsWebby, Catherine Nelson, Cassandra Keyes, Simon Wegerstedt, Naomi B, Izzy, Robyn Smith, Bryant Bain, Trevor Atkinson, Lucy J, charles phillips, cgates, Darel Boyer, Rupert Borthwick, Michael Kraus, Ryan, Rhys Blythe, Anthony Lopez, Nick Soucy, Dustin Gatliff, Ellen Mitchell, Melanie Warga, Jeremiah Walker, Tim Hinkle, D. G. Speirs (The Tao of Maud), Randall Welker, Shyler Lance, Bryan Sheairs, matteo carbini, Max Hops, Kris Drummond, Sarah Holland, Joshua David Maddox, Standish Writes, Ray Bissonnette, Joe Farabaugh, Joe Dalby, Joline Tran, Matt Price, Yuki, ShortyMcgibble, Knot Sure, Alex Lavigne, mtnman1979@aol.com, Parker VanDerMeide, KFB_Patreon, BROisback, David Davidson, eric sun, Furbee Merchant, Jason Wenneman, Mike Kemmerer, Katherine Ekes Lewing, Matthew payne, Jacob Plummer, RiGarou, Rebecca Montelli, Gage Lahr, H, John Karels, wintersanctuary, Dylan Williams, Jakasaras 4che, Nahellion, Vanessa, Robert D O'Dell, Scarlett, Chris Francis, Alexander Garcia, Dale Wyble, Serena Verden, Alexander Griffiths, SnipsGTI, Brian Sousa, bilbens baggo, Stuart, IbKelek, Galygious, Nicole Patten, Clementine Turner, ted valen, T. Alexander, Tim Mason, Gannon Dubay, Thobek, George V Crain, Brian allbritton, Aaron Teupe, Moonstone, Matthew Newton, Celso R Garcia III, Felix Schmäche, Corwin Lum, John, Rob Garner, Matt Houghton, RRare, Rune Anjum, Brice Carpenter, Jordan Brazeal, Jake Lane, Adam Ruiz, Phillip P Torchia, Conor Quinn, Balanced Game Review, Jordan Fountain, Stefan Gottschalk's, Matthew Wood, Bartis Edmond Hawley-Wall, Christina Majchrzak, Zealot23, Nich Smith, Chris Mulvihill, Keaton Permenter, Shazear, Curran Vallejo, Leanna Orr, John Nazario, Gary, Topher Scott, Max Puplett
Their contribution stands as a beacon of hope for all adventurers!