Trap Generator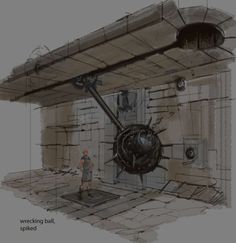 [Permalink]
Rune of Paralyzation
An enemy in disguise asks for help and leads the PCs into the trap and triggers it, which activates a rune of power, paralyzing the target.
Effect: Targets all creatures within 10 ft., DC 11 CON save or become paralyzed for 4 (1d4) rounds
Trigger: enemy, an enemy in disguise asks for help.
Countermeasures: A successful DC 10 Insight check can tell that the enemy is lying. A successful DC 15 Dexterity check using thieves' tools disarms the trap.
Casting
dispel magic (DC 15)
will dispel the runes.
Floor Spikes
A door or chest is rigged to activate when opened, which causes spikes to shoot up through the floor and impale anyone standing above.
Effect: Targets all creatures within a 10 ft. square area, Spikes shoot up through holes in the floor. Any target in the area makes a DC 11 DEX save or takes 9 (1d10) piercing damage.
Trigger: door, activates when a door or chest is opened.
Countermeasures: Spotting the attached wire is a DC 10 Wisdom (Perception) check. A successful DC 15 Dexterity check using thieves' tools breaks the wire attached to the door harmlessly. A character without thieves' tools can attempt this check with disadvantage using any edged weapon or edged tool. On a failed check, the trap triggers.
Destroying Traps
Traps can be damaged and destroyed, sometimes to good or bad effect. Pipes containing fire or poison will rupture and spray over the area, while mechanisms can be rendered inoperable with enough force. Determine the HP and AC of your traps based on the tables below. Sometimes a fragile trap is more dangerous than a resilient one if destroying it will fill the corridor with acid.
| Substance | AC |
| --- | --- |
| Cloth, paper, rope | 11 |
| Crystal, glass, ice | 13 |
| Wood, bone | 15 |
| Stone | 17 |
| Iron, steel | 19 |
| Mithral | 21 |
| Adamantine | 23 |
| Size | HP (Fragile) | HP (Resilient) |
| --- | --- | --- |
| Tiny (bottle, lock) | 2 (1d4) | 4 (2d4) |
| Small (chest, lute) | 3 (1d6) | 17 (3d6) |
| Medium (barrel, chandelier) | 7 (1d8) | 28 (4d8) |
| Large (cart, 10x10 ft. window) | 3 (1d10) | 25 (5d10) |
This website exists thanks to the contribution of patrons on Patreon. If you find these tools helpful, please consider supporting this site. Even just disabling your adblocker will help (it's only text and plain image ads I promise). Becoming a patron will upgrade your account to
premium
, giving you no ads and more features.
Shout outs: Stacey, Rebecca Wheeler, Masca Boom, Jordan, Martin Harris, Rincewind, Nicole Carey-elmer, Michael Hamilton, Rob Hale, Vedie V, Mylon Schroder, Nathan, Conrad Carlson, Tiffany Mathis, Jordan Florez, Devantre Blackmon, Robert Rich, Miha Pavlovič, Mohammed Murtuza, bob leponge, TheFiendSaint, Robin Ellis-Foster, Deanna Pyle, Meme Pitt-Melton, E.D.F., Devon Bickel, IcySky121, Dan Evans, Lorena Stuart, Zee Livezey, Alexandra Nguyen, KuroKimora, Christianna Schommer, Kerry Melton, SpiritFang, Lizette Marie, DJ_Kelf, Insomic Panda, Laure Wouters, ItsWebby, paige anderson, Cassandra Keyes, Simon Wegerstedt, Naomi B, charles phillips, Darel Boyer, Rupert Borthwick, Michael Kraus, Rhys Blythe, Anthony Lopez, Nick Soucy, Melanie Warga, Jeremiah Walker, D. G. Speirs (The Tao of Maud), Randall Welker, Shyler Lance, Bryan Sheairs, matteo carbini, Koto Sinclair, Max Hops, Sarah Holland, Joshua David Maddox, Jennifer Smith, Standish Writes, Ray Bissonnette, Joe Dalby, Joline Tran, Matt Price, Yuki, ShortyMcgibble, Alex Lavigne, mtnman1979@aol.com, Parker VanDerMeide, KFB_Patreon, David Davidson, eric sun, Furbee Merchant, Jason Wenneman, Gundar Wez, Ken Shapiro, Katherine Ekes Lewing, Matthew payne, Jacob Plummer, Ejay Mcmaster, RiGarou, Rebecca Montelli, John Karels, wintersanctuary, Dylan Williams, Snowy Snow, Jakasaras 4che, Nahellion, Robert D O'Dell, Alexander Garcia, Dale Wyble, Serena Verden, Alexander Griffiths, SnipsGTI, bilbens baggo, Stuart, IbKelek, Nicole Patten, Clementine Turner, T. Alexander, Tim Mason, Maxwell Mayer, Gannon Dubay, Caio Mantovani Alves, Thobek, Aaron Teupe, Celso R Garcia III, Felix Schmäche, John, RRare, Brice Carpenter, Jordan Brazeal, Kyle Clark, Jake Lane, Adam Ruiz, Phillip P Torchia, Natalie Luttrell, Balanced Game Review, Stefan Gottschalk's, Matthew Wood, Royce Dillard, Bartis Edmond Hawley-Wall, Dawnwolf, Christina Majchrzak, jeremy baisch, Zealot23, Nich Smith, Andre Wills, CJMAXP, Keaton Permenter, Shazear, Curran Vallejo, Leanna Orr, YaBoiBellabean, John Nazario, Gary, Gordon Alexander Fallon, Jason Clark, Topher Scott, Max Puplett
Their contribution stands as a beacon of hope for all adventurers!